TVLogic is now providing its customers with its unique calibration software for FREE.
Register your new TVLogic products within 3 months of purchase and get extended warranty.
Custom LUTs for VFM 055A (YouTube)
HEM-100 : MPEG-2 HD ENCODER & ATSC MODULATOR
The HEM Series is the professional ATSC Modulator with built-in MPEG-2 HD Encoder. It offers excellent cost-effective performance for HD video distribution within a single building or a station such as government office, hotel, airport, restaurant, bar, school, hospital and everywhere else digital signage or high quality video is serviced.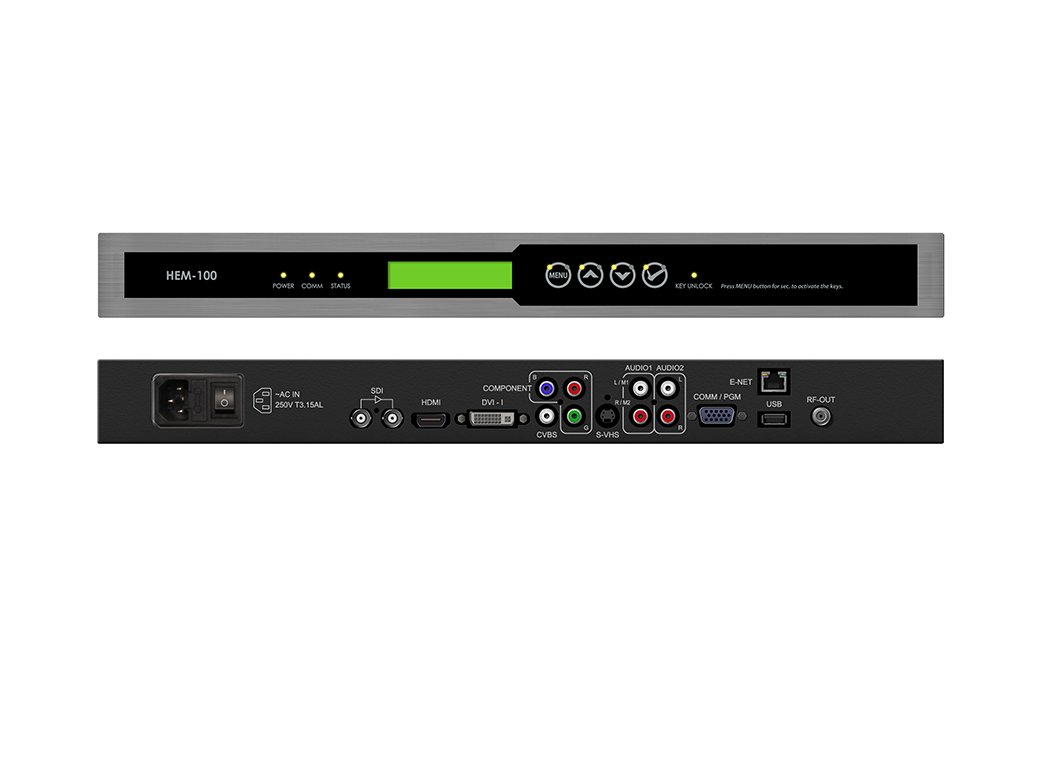 Choice:
Cost-Effective Solution with Excellent Quality
With TVLogic's industry leading technology, the HEM Series can deliver HD video stream in RF signal format through a single coaxial cable to a TV set that is located some hundred meters away. And it can distribute a HD video stream to multiple TV sets using RF distributors which guarantees the cost reduction. The HEM Series is a perfect solution for In-House Broadcasting systems.

Smart Design and Smart Control
Touch Button: Simple and beautiful front control panel design
LCD Indicator: Easy and quick status check through the LCD indicator
LED Alarm: Convenient LED Alarm for checking encoder's condition
1RU Case: 1RU Compact Size

NMS Support
Ethernet based NMS(Network Management System) is supported as standard.
So the HEM Series can be remotely controlled by using PC to check status and change set value or input source.

Multi-Format Support
The HEM-100 supports most of the current video interfaces to cover the various user needs.
It supports HD/SD-SDI, HDMI(w/ HDCP), Digital RGB(DVI), Analog RGB(VGA) and Analog Videos(CVBS, S-Video, Component Video). Output Video Formats can be 1080i(HEM-100) and 720p(HEM-050).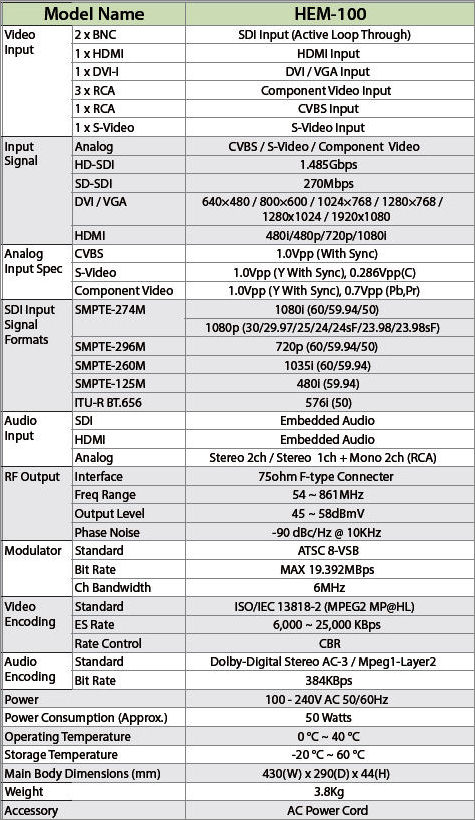 Contact Us
If you have any questions, please contact our Technical Support staff. If you're a reseller interested in selling TVLogic product, please contact one of our offices worldwide. If you're a customer interested in purchasing TVLogic product, please contact one of our hundreds of authorized resellers worldwide.
Address
7764 San Fernando Rd., Ste 7 Sun Valley, CA 91352