TVX-DS
1ch DVI optic module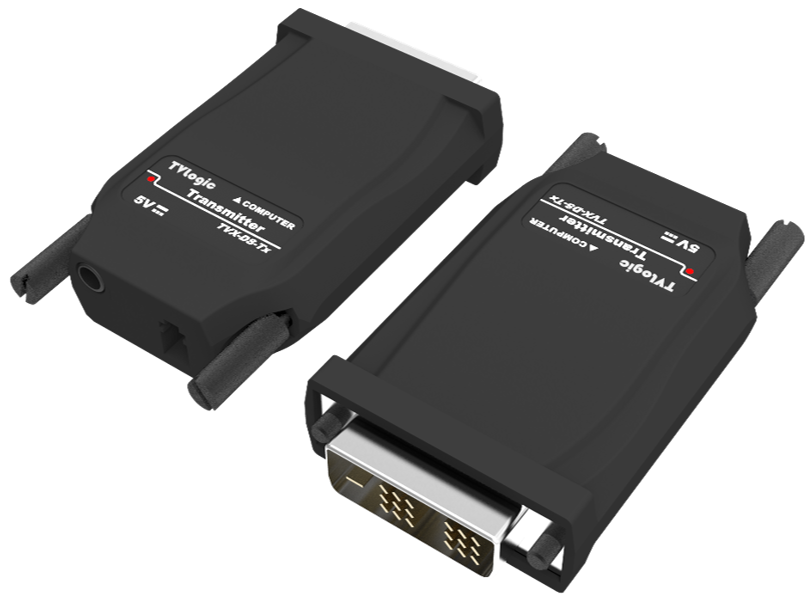 Choice:
TVX-DS : 1ch DVI optic module
- TVX-DS-Tx : Transmitter
- TVX-DS-Rx : Receiver
1ch DVI Extender is a device which transmits DVI image signals to the maximum 2Km. And this minimizes change of signal level by equalizing video signals.
Max. Resolution 1920x1200@60Hz
Maximum Pixel Clock 225MHz
Auto EDID
- TVX-DS installs EEPROM inside.
- This supports Real EDID and provides the optimal resolution
Max. Transmission / Reception Distance
- Optical single mode : 2km
- Optical multi mode : 500m
TMDS Equalizing
HDCP Compliant
Thumb Screw locates at the rear panel.
Standard : DVI 1.1
LC Connector type
TVX-DS : 1ch DVI optic module
Item

Specification

Minimum

Maximum

DVI
Single mode
2,000 meter
Multi mode
500 meter
Power
Power(DC)
4.5V
5.5V
Current
1.5A
4A
Temperature / Humidity
Storage Temperature
-30 °C
70 °C
Working Humidity
0 %RH
85 %RH
Storage Humidity
0 %RH
95 %RH
Connect
Optical Type
1ch Fiber optic module : LC Connector
DVI Type
24 pin DVI-D male Connector
Dimensions
W40xD70xH15
TVX-DS : 1ch DVI optic module